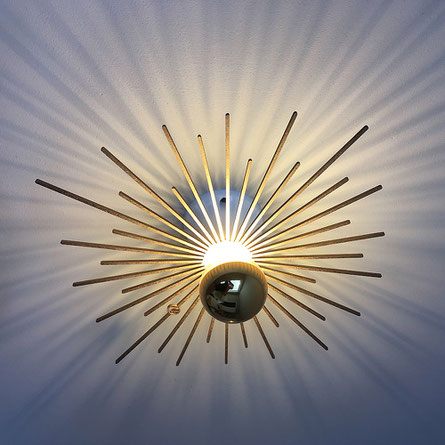 Experiment effect :
By a discreet golden ceiling light with a gold mirror bulb, a great drawing of light and shadow is emerging like a big sun on the ceiling.
The lighting :
The celling lamp RAGGIO diffuses a pleasant warm light on the celling and in the room. This luminaire draws a big sun on the celling with light and shadows
Reference  :  19011A-WG-F
500 g       (L x l x h) : 30 x 30 x 14 cm
Color: Gold / White
Material: Ceramic and wood
Wall lamp to connect to the wall or ceiling wire
Light source: Led (from the supplied bulb)
Energy label: A + (from the supplied bulb)
230 Volts AC   IP54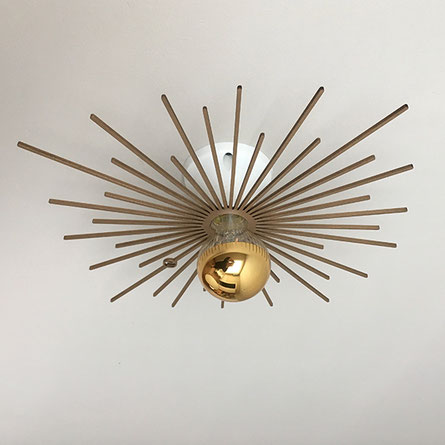 Bulb :
L6W LED filament golden mirror bulb diffuses an indirect warm light.  It gives a lighting equivalent to a60W incandescent bulb. 
Reference  :  F190607
Weight  :  70 g
Brand : Girard Sudron
Dimensions (L x l x h) : 6 x 6 x 10,5cm
Protection class (IP) : IP20
Bulb base : E27
Dimmable : No
Light source : Led
Energy label : A+
Average Life (hour) : 15 000 h
Volts : 230 Volts AC
Luminous flux : 680 lumen
White temperature :  2700°K
Power :  6 Watt
Luminaire for :
Corridors, kitchens, bedrooms and living room.
Was this article helpful?
Leave me a comment and feel free to share it!