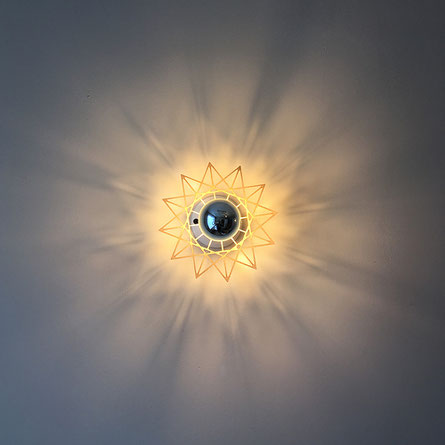 Effet de l'expérience :
Par une applique discrète dorée, un grand jeu d'ombre et de lumière qui dessine un grand caléidoscope sur le mur.
Luminaire :
L'applique CLAEIDO diffuse une agréable lumière chaude sur le mur et dans la pièce. Ce luminaire dessine des grandes formes géométriques sur le mur avec la lumière et les ombres. 
Référence  :  19012A-WG-F
500 g       (L x l x h) : 21 x 21 x 14 cm
Color: Gold / White
Material: Ceramic and wood
Wall lamp to connect to the wall or ceiling wire
Light source: Led (from the supplied bulb)
Energy label: A + (from the supplied bulb)
230 Volts AC  680 lumen   7 watts   3000°K  IP54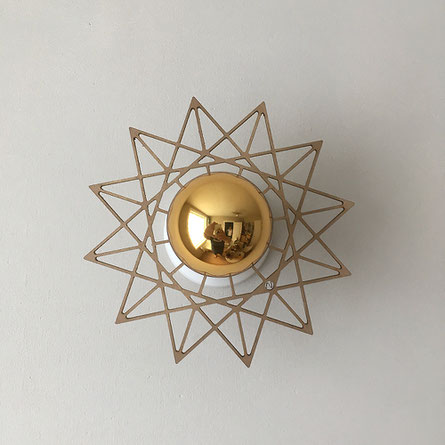 Ampoule :
L'ampoule filament LED à miroir doré de 6W diffuse une lumière chaude indirecte. Elle donne un éclairage équivalent à une ampoule à incandescence de 60W.
Référence   :  F190607
Poids   :  70 g
Marque : Girard Sudron
Dimensions  (L x l x h) : 6 x 6 x 10,5cm
Indice de protection (IP)  : IP20
Culot : E27
Dimmable : Non
Source de lumière : Led
Étiquette énergie : A+
Durée de Vie Moyenne (heure): 15 000 h
Volt  : 230 Volts AC
Flux lumineux  : 680 lumen
Température du Blanc  :  2700°K
Puissance  :  6 Watts
Luminaire pour :
Des couloirs, des cuisines, des chambres à coucher et dans un coin du salon. 
Cet article vous a plu ?
Partagez-le sur Facebook et sur Twitter ou laissez-moi un commentaire.